I'm so happy to have a good friend of mine guest blog today. Sweety Sull Tumber is a wonderful mother to two gorgeous kids, J and S.
It's a snow day today and I was feeling hungry. Too lazy to run out in the blistering weather to purchase some groceries, I decided to test my culinary skills and come up with something to eat with existing ingredients in my pantry. For months now, I had been intentionally ignoring the jar of quinoa that I purchased on one of my 'today is the day that I will eat healthy and instantly lose a million pounds' type outings. So I thought… Maybe I should learn how to prepare this, how bad could it taste? I'll just jazz it up with some fresh veggies and lemon. On a side note, up until today I really had no idea what quinoa even was! Well, after some snooping around in my fridge and throwing some simple veggies together, I enjoyed the most healthiest, tastiest and filling salad ever! Quinoa is an amazing grain full of fiber and all nine amino acids. It's also a complete protein making this an excellent choice for those who are trying to lower their weekly meat intake. It's also gluten free. I hope you enjoy this as much as I did. My 2 year old sure did.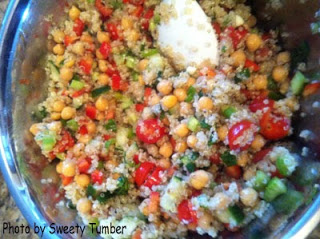 Quinoa and Veggie Salad
1 cup dry quinoa , cooked and drained
1 long english cucumber, diced
1 red pepper, diced
1 cup of diced celery
1 cup of cherry tomatoes, halved
5 green onions, diced
2 tablespoons fresh minced garlic
1/4 cup parsley
2 cups of canned cooked chickpeas, rinse well
2-4 tablespoons of fresh lemon juice
salt and pepper to taste
I also added 2 tablespoons of low fat italian dressing that I found in my fridge just for fun
Toss together and enjoy!