A few weeks ago, we went to Redwater Grille to celebrate a friend's birthday. I started my meal with an appetizer of Pan Roasted Wild Shrimp in a garlic chili butter. The dish was so amazing and I thought about it for days. I had to find the recipe.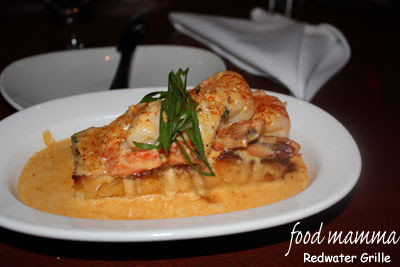 Thanks to Google, I discovered the menu was created by Ned Bell, who was the corporate chef of the Vintage Group who owns Redwater Grille. I happen to come across the recipe on someone's personal website, under a different name – I was thrilled! I made the shrimp for our Progressive Dinner and my husband commented that the sauce would go great with pasta. This past weekend, I pulled out my new pasta machine and tried my hand at fettucine. The wholewheat noodles were perfect to sop up the tasty sauce.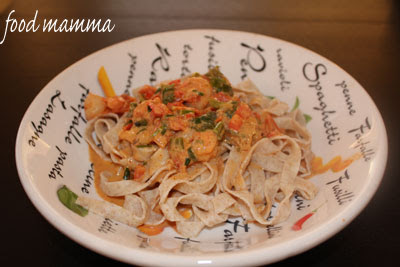 Ned Bell's Wild West Prawns
3 TB olive oil
30 peeled jumbo shrimp
2 TB minced garlic
1/4 cup dice red bell pepper
1 cup cherry tomotoes, quartered
2 TB chili powder
1/2 cup white wine
1 cup cream
8 ounces butter, cut into cubes
salt
pepper
1/4 cup green onions, thinly sliced
1/4 cup cilantro, roughly chopped
Heat oil in a pan until almost smoking hot. Add the shrimp and sear for 30 seconds or until they start to turn golden brown. Remove the shrimp and add the garlic, red pepper and tomatoes to the pan. Saute for about 1 minute or until the garlic browns slightly. Stir in the chili powder, cook 30 seconds and add the wine. Bring to a boil and add the cream and butter.
Reduce the sauce for about 2 minutes, or until it is thick enough to coat a spoon. Season with salt and pepper to taste and mix in green onions and cilantro. Return the shrimp to the pan, warm through, and serve immediately.