Chocolate – it's a huge weakness of mine. It's rare for a day to go by without me having it in some form. I was so happy when I rediscovered these chocolate fiber muffins. I found the recipe years ago and it was a favorite of mine, but somehow got lost and forgotten. I recently found it on my old computer and it has been a staple the last few weeks. Chocolate muffins that are good for you! These are filled with fiber and have no butter or margarine. These muffins are dense and filling and with their chocolately goodness, I don't know who likes it better, me or my toddler. I substituted half the batch with mint chocolate chips making it a good substitute for my peppermint hot chocolate which I rarely have these days. I wish I knew where this recipe came from – the creator of this recipe deserves A LOT of credit.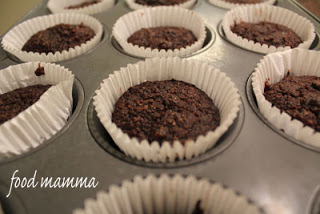 Chocolate Fiber Muffins
1/2 cup cocoa
3/4 cup flour
1/4 tsp baking soda
1/4 tsp salt
1 TB baking powder
1 1/4 cup sugar
1 tsp vanilla
2 cups water
3 cups All Bran Cereal
2 egg whites
2/3 cup chocolate chips (or mint chocolate chips)
Put cereal in water and set aside. Mix all dry ingredients with a whisk. Combine cereal, dry mixture, egg whites and vanilla and mix well with a mixer. Fold in chocolate chips.
Bake at 350 degrees for 18 to 20 minutes. Makes 24 muffins.