Any excuse for my toddler and I to make cookies together, we take it. With Valentine's Day around the corner, we just had to make cookies to celebrate. Q gets up on the counter and helps pour things into the mixing bowl, watching as everything is incorporated. His favorite part is decorating, especially when sprinkles are involved.
These are cookies from my childhood. Almond cookies shaped into crescents. Sometimes topped with icing sugar, sometimes dipped in chocolate and nuts. Not too sweet, they are perfect with a cup of chai.
We dipped the ends of these ones into chocolate and covered them in heart-shaped sprinkles. A delicious surprise for all of Q's little friends.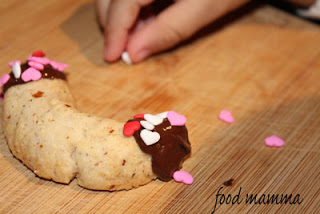 Almond Crescent Cookies
1/3 cup sugar
1/2 cup margarine
1 egg
1 tsp vanilla
1/2 cup finely ground almonds
1 1/2 cups flour
Beat the sugar and margarine until fluffy. Add the egg and vanilla and mix. Next add the almonds and flour until the dough comes together. Make dough into a disk and refrigerate for 10 minutes. Take rounds of dough and shape them into crescents. Bake at 350 degrees for 25 minutes. Makes 1 1/2 dozen cookies.