Happy Valentine's Day! With my birthday being next month and our anniversary the month after, we aren't big on store-bought gifts. I remember our first Valentine's Day, I made my honey some home-made truffles. Hard to believe that was eight years ago! It was definitely time to make the truffles again.
People always seem impressed when you make chocolates but it really is so easy! It's also messy, so be prepared to get your hands dirty. My favorite combo is chocolate with roasted almonds but any topping will work – sprinkles, dusted cocoa, even icing sugar.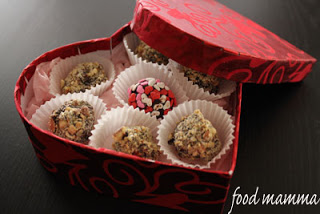 Chocolate Truffles
8 oz. chocolate chips or squares
1/2 cup whipping cream
chocolate chips, melted
toppings (nuts, sprinkles, cocoa, etc.)
Over a double boiler, melt the chocolate and whipping cream. Refrigerate the resulting ganache for a few hours. With a melon baller, scoop out little balls from the chocolate and refrigerate again. Take the scoops of chocolate and make them into round balls with the palms of your hand. Dip the balls of chocolate first into the melted chocolate and then into the topping of your choice. Enjoy!