If you randomly stop in for a visit at my parents house, it is likely that my mom will quickly whip up some dhokra to serve with tea. Dhokra, or dhokla as it is sometimes called, is a savoury steamed cake. There are many different ways to make this, either with gram flour or with wheatlets (or sooji). The cake has a sponge-like texture which is achieved with either baking powder or Eno. This is our family recipe. It is the perfect mid-afternoon or tea-time snack. It is best served with some hot sauce, or if you're like me and don't like too much spice, ketchup.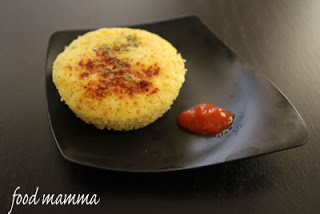 Dhokra (Savoury steamed cake)
1 cup wheatlets (sooji)
½ cup Yogurt
2 TB oil
Few leaves of cilantro
¼ tsp garlic
½ tsp salt
¼ tsp turmeric
1 cup water (approximately)
1 heaping tsp baking powder
Dried parsley and red chili powder
Mix the first 7 items well with water. Don't add the full cup right away. You want an almost pancake-like consistency. Then add baking powder. Pour into two cake pans or 20 foil muffin cups. Sprinkle parsely and chili powder on the top and steam for approximately 15 minutes.