Dhokro is a savoury steamed cake and is perfect for a quick snack or a cup of chai. This version is made with semolina and flavoured with garlic and spices.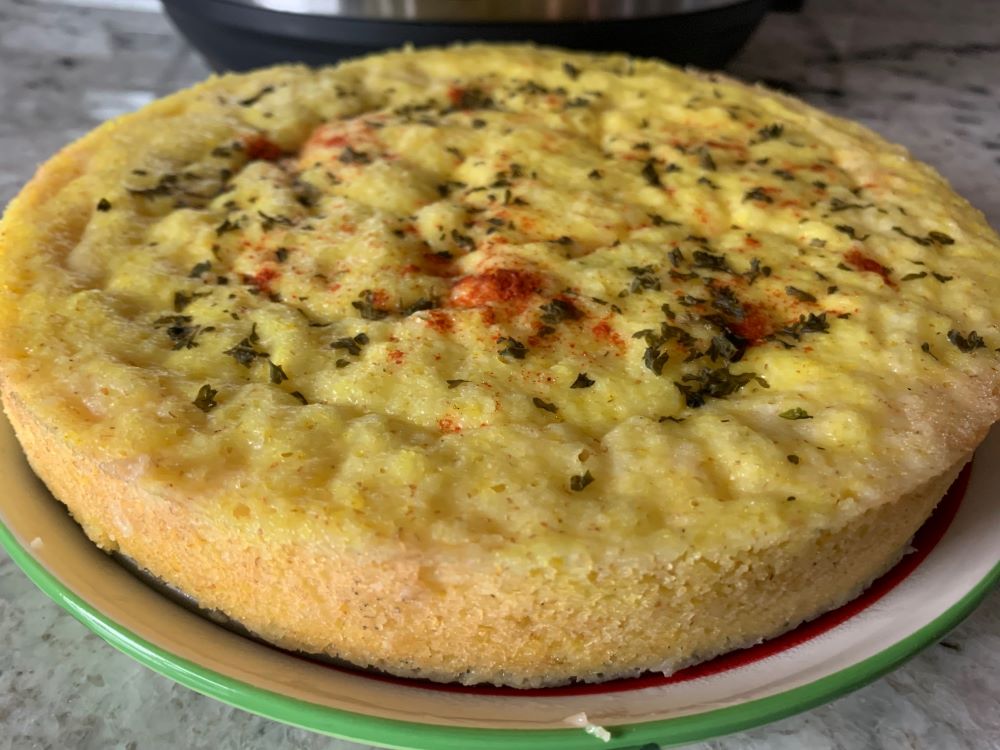 If you randomly stop in for a visit at my parents house, it is likely that my mom will quickly whip up some dhokra to serve with tea.  Dhokra, or dhokro is a savoury steamed cake and is perfect as a snack. It's a popular dish especially in Ismaili households.
There are many different ways to make this, either with gram flour or with wheatlets (or sooji). The cake has a sponge-like texture which is achieved with either baking powder or Eno. The baking powder or the Eno make the whole batter puff right up.
This is our family recipe.  It is the perfect mid-afternoon or tea-time snack.  It is best served with some hot sauce, or if you like things mild and don't like too much spice, ketchup.
Dhokro in the Instant Pot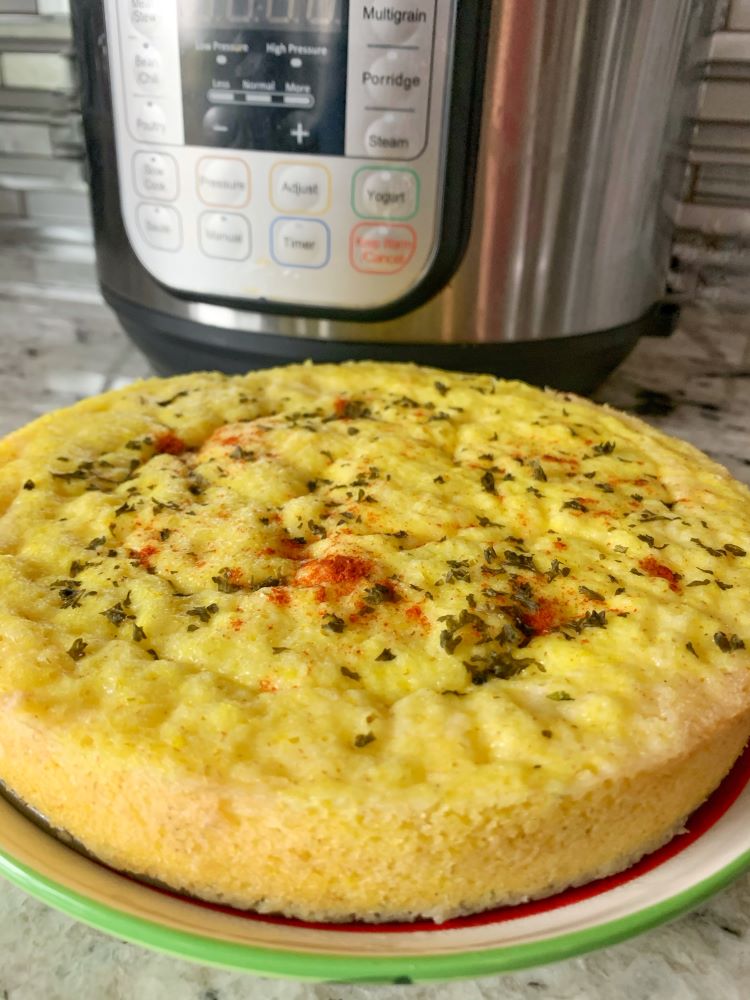 The Instant Pot is easily one of the most used appliances in our house. Since it has the steam function, it is perfect for making the dhokro in. You just need to ensure that the pan that you use fits comfortably in the pot.
Add a couple of cups of water in the Instant Pot and then add a trivet. On the trivet, add the pan you are using (make sure it's greased). Once you add the baking powder to the mixture, just pour the batter into the pan and top with parsley and chili powder. Close the lid, put the knob to sealing and press Steam for 15 minutes. Once the 15 minutes are done, move the knob to venting. Once the pressure is fully released, open the lid and take the pan out of the pot.
Looking for more Instant Pot recipes? Click here.
Ingredients
1 cup wheatlets (sooji)
½ cup Yogurt
2 TB oil
Few leaves of cilantro
¼ tsp garlic
½ tsp salt
¼ tsp turmeric
1 cup water (approximately) + 1 TB hot water
1 heaping tsp baking powder
Dried parsley and red chili powder or paprika
Instructions
Place some water into a pot with a trivet and bring it to a boil.
Mix the first 7 items well with the 1 cup of water. Don't add the full cup right away ; add it slowly until you get an almost pancake-like consistency.
Add the baking powder along with 1 TB of hot water. Mix this into the batter quickly.
Pour the batter into a cake pan or into foil muffin cups.
Sprinkle the top with dried parsley and chili powder or paprika.
Place the pan on the trivet and close the lid and let it steam for approximately 15 minutes.
7.8.1.2
127
https://foodmamma.com/2011/02/dhokra-savoury-steamed-cake/