Hard to believe it's almost been 2 years since our last visit to Geneva. My sister worked there for a few years and it's been one of my favorite places to visit. The history, the lake, the chocolate, and of course, the food! The one thing that stands out, besides all the chocolate, is the pain au chocolat aux amandes. The day that we left for our swiss train ride, my sister ran to a nearby bakery and surprised us with these goodies. Croissants filled with almonds and chocolate, sinfully delicious! I've been addicted to these ever since. She has even brought them over on a few of her visits.
I've been thinking about these lately and just had to have one. We have some great bakeries in Calgary where one can easily find pain au chocolat or an almond croissant. Unfortunately, I couldn't find one that sold the combination. I figured I would try my hand at it, a perfect project when cooped up at home with a cold.
When searching for recipes, most called for marzipan as the filling for the almond croissant. Not willing to leave my house, I threw a few things together to make an almond paste. To make things a little easier, I pulled out one of my favorite ingredients from the freezer – puff pastry! Come to any party of mine and you will be sure to find something made with this buttery dough.
The result was a wonderful substitution for the croissant from Geneva. A flaky buttery crust filled with chocolate and a subtle hint of almonds. A delicious but dangerous snack to have around.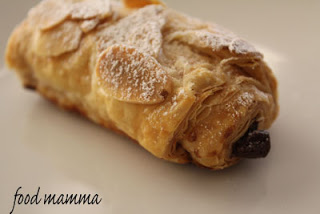 Pain au Chocolat aux Amandes
1/2 cup ground almonds
1/4 cup sugar
1 egg
3 TB softened butter
1 tsp vanilla
1 TB flour
puff pastry
chocolate chips
egg whites, for egg wash
sliced almonds, for topping
icing sugar, for dusting
Combine the first six ingredients to make a paste. Roll out the puff pastry and cut into rectangles, approximately 8 rectangles per sheet. Spread almond paste on each rectangle. At the edge of each rectangle, put a line of chocolate chips, roll over once and add another row of chocolate. Roll the puff pastry to the end and place on parchment paper, seam side down. Brush the tops of rolled pastries with egg wash and sprinkle with sliced almonds. Bake at 325 degrees for approximately 40 minutes. Dust each with icing sugar.