Food Mamma is ONE! Wow, a whole year has gone by since my first post. As much as I loved the idea of a food blog, I wondered if I would be able to maintain it, and come up with different things to make and post about. Turns out, content wasn't an issue. Finding time to post the content, well that's another story.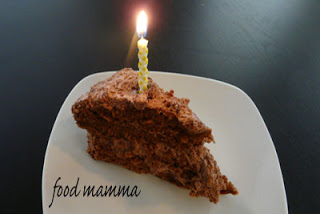 I am inspired daily by all the wonderful blogs that I read. They influence this blog and make me want to inspire others. Thanks to everyone for stopping by and for your comments.
I thought it would be fitting today to post the amazing cake my mom made for my birthday this year. Q requested chocolate so mom happily obliged. Four layers of chocolately goodness separated by a mocha whipped cream icing. The rich cake with the light icing made it a perfect pairing. Delicious!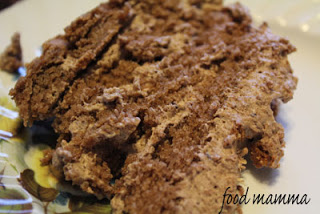 Four Layered Chocolate Cake
4 oz. unsweetened chocolate squares
1/2 cup hot water
1/2 cup sugar
2 cups flour
1 tsp baking powder
1 tsp salt
1/2 cup butter
1/2 cup margarine
1 1/4 cup sugar
1 tsp vanilla
3 eggs
2/3 cup milk
Mix the first three ingredients and keep aside.
Mix the dry ingredients and keep aside.
Beat the butter, margarine, sugar, vanilla, eggs and milk. Add the dry ingredients and mix well. Add the chocolate mixture to this and mix again. Pour batter into 2 round cake pans and bake at 350 degrees for 40 to 45 minutes. Once the cakes have cooled, cut each layer in half so that you have four layers. Frost all layers with the icing.
Icing
3 cups whipping cream
1 1/2 cup sugar
1/2 cup unsweetened cocoa
pinch salt
2 tsp instant coffee Beat all the ingredients together until the whipping cream comes together.