I had been hearing about Five Guys Burgers for a while now. People raved about how great these made-to-order burgers were, how big they were and all the toppings they had. I just had to go try it for myself. I stopped in a couple weeks ago and picked up some burgers to take home for dinner. I had expected a line but was happy to learn that I just missed the rush. Five Guys is located in Deerfoot Meadows, just across from Fat Burger.
The fresh burgers came in two sizes – small and regular. Luckily I did my research and avoided the regular sized hamburger which is made with two beef patties. The little hamburger was the perfect size, especially when all the toppings were added. The burgers were great and we will definitely be going back!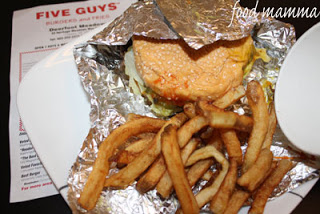 All toppings are free and there are many to choose from: mayo, relish, onions, lettuce, pickles, tomatoes, grilled onions, grilled mushrooms, ketchup, mustard, jalapeno peppers, green peppers, steak sauce, bbq sauce and hot sauce. I especially liked the grilled onions and mushrooms.
The fries came in regular or cajun and you can expect a lot! No matter what size you order, they toss another scoop of fries into the bag. You are left with lots to share.
The one thing that people should be aware of are the open boxes of peanuts around the restaurant. As much as I love nuts, growing up with family members with nut allergies makes me very uneasy having nuts so openly available.