These nuts just came out of the oven and I can't stop eating them! Not sure there will be any left by the time hubby gets home. I wanted a snack but was craving so many things – chocolate, sweet, salty – I just couldn't decide what I felt like. I remembered a bag of pecans I had sitting in the pantry and figured it would be the perfect vehicle for all these flavours. This didn't take long to make and the baked nuts made the house smell delicious. I figured I would post this right away so I don't forget what I added. Next time I'll definitely be making a bigger batch, I just can't stop eating them. Enjoy!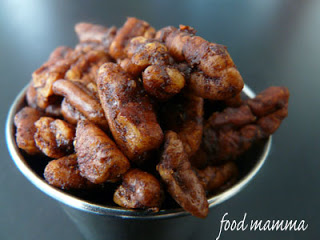 Cocoa Spiced Pecans
1 cup pecans
1 TB butter, melted
2 TB brown sugar
1/2 tsp cinnamon
1/2 tsp chili powder
1/2 tsp cocoa
1/2 tsp salt
Preheat the oven to 325 degrees. Place the pecans on a baking sheet and bake just until you smell the pecans. Combine all the other ingredients and toss with the baked nuts. Place the nuts back on the baking sheet and bake for another 10 minutes. Let the pecans cool for a few minutes before you devour them.