My 2 year old loves sushi. So much so, that when any of the various websites featuring daily deals has a sushi deal, I grab a few. We all felt like sushi last weekend so I turned to the vouchers to help us decide where to go. We headed to Fuji Yama on 17th Avenue.
We were greeted with a familiar face – a sushi chef who used to work at Kinjo, one of our favorites! He started off our meal with an orange, segmented and turned into a great little creature. Q loved it!
Because there were four of us, we were able to use two of our vouchers ($40 for $80 worth of food…yay!). We started with shrimp tempura which was really good. The batter was light and crispy and it was a great way to begin our feast of sushi.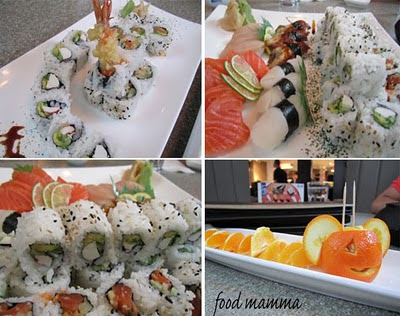 Some of the nigiri sushi that we sampled was the salmon, tuna, scallops and unagi. All were very fresh and tasted great. We also had many rolls – spicy salmon, california, dynamite and yam tempura. All of them were so delicious. We definitely got a lot for our money and Q had a lot of california rolls to take home for lunch the next day.
Service is huge for me and I was very pleased that it was amazing. Our server checked on us often and made sure we always had our drinks refilled.
We really enjoyed our meal at Fujiyama and look forward to our next visit.