I can't believe it's already July. Time is just flying by! We spent Canada Day at Calaway Park which Q totally enjoyed. Luckily he enjoyed the rides, unlike his mamma, and he can't wait to go back. We just had to finish the day with a bbq. I wanted something easy, that would take a few minutes to pull together. I made the meat mixture for the kebabs before we left for some amusement park fun. Food didn't take long once we got home and threw the chicken on the grill.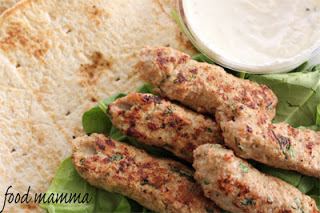 Chicken Kebabs
1 lb ground chicken
1/2 onion, grated
4 cloves garlic, grated
handful cilantro, finely chopped
handful mint, finely chopped
2 TB yogurt
1/2 cup breadcrumbs
1 tsp ground cumin
1 tsp ground coriander
1/2 tsp cinnamon
1/2 tsp paprika
salt
pepper
In a large bowl mix all ingredients together. Let the meat sit for an hour or two in the fridge. Make small logs out of the meat mixture using the back of a wooden spoon. I placed the kebabs in a grill basket and placed it on the grill to avoid it from sticking and falling in. Serve with pita and tzatziki.