With my sister-in-law's wedding coming up next month, we took the time last week to celebrate with a bridal shower. It was a wonderful afternoon with her close friends and family spoiling the bride-to-be. I think no party is complete without a great dip, so we made sure there were two. I made my usual Roasted Red Pepper Dip. I also made hummus which was served with mini pitas.
A couple months ago, hubby was obsessed with a jalapeno hummus we had at a party so we made a few batches, trying to perfect the recipe. This is the recipe which we came up with, although I did leave out the jalapeno for the party. It's easy peasy and perfect with bread or veggies.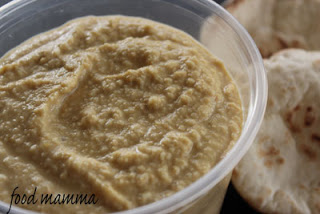 Jalapeno Hummus
1 28-oz. can chick peas
1 cup yogurt
3 cloves garlic
1 TB tahini
zest of one lemon
1/2 lemon, juiced
1 jalapeno, seeded and chopped
Dump everything in a food processor and blend until combined.