My sister's coming for a visit! S currently lives in Tajikistan, a mountainous country in Central Asia. It's a long way to travel and her visits are always way too short!
With yesterday being my sister's birthday, we definitely need cake to welcome her home. I had some cream cheese icing in the freezer, just needed a cake that we could slather it on. Besides carrot cake, the only other thing that came to mind was red devil. I had never made it before and on my hunt for a recipe, many had full bottles or more of food colouring! The recipe that I finally settled on only had 1 tablespoon. This recipe for mini red devil cupcakes comes from Simple Recipes. I didn't have buttermilk so swapped it out with some homemade yogurt (which my mom makes for us weekly – I know, I am so spoiled!).
This was a simple recipe and these cupcakes were delicious! Hope S loves them too!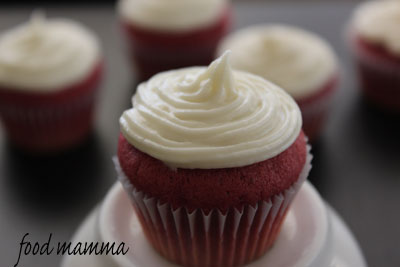 Mini Red Velvet Cupcakes
1 1/4 cups all purpose flour
1 tablespoon cocoa powder
2/3 cup sugar
1 large egg
1/2 cup homemade yogurt
1/4 cup unsalted butter
1 tablespoons red food coloring
1/2 teaspoon vanilla extract
1/2 teaspoon white vinegar
1/2 teaspoon baking powder
1/2 teaspoon baking soda
1/2 teaspoon salt
Preheat the oven at 350 degrees.
In a large bowl, sift together the flour, cocoa powder, baking soda, baking powder, and salt. In another bowl whisk together the buttermilk, vinegar, vanilla extract, and red food coloring. Beat the butter and sugar in an electric mixer until light and fluffy. Add the egg beating until a creamy texture. Add 1/4 of the flour and mix, then add 1/3 of the buttermilk mix .
Continue adding the flour and the buttermilk until all the ingredients are mixed.
Use two teaspoons and carefully scoop the batter into cupcake papers, about 1/2 to 3/4 of the way full. Bake for 12 minutes or until a toothpick comes out clean.
Transfer the baked cupcakes to a wire rack to cool.
For the frosting, I used this cream cheese icing.