We celebrated another anniversary this month – my in-laws. We had a Mexican feast to celebrate their 36 years of marriage.
I had a cake in mind that I wanted to try and this seemed like the perfect opportunity to make it. I had seen Ina's famous coconut cake many times on her show Barefoot Contessa. It was also recently showcased on Next Food Network Star so I knew I just had to try it out.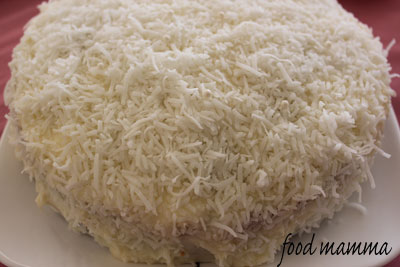 I gathered the ingredients together and when I went to preheat the oven, I found that my oven had completely stopped working! I was not going to let that stop me from making this cake, so I loaded up my car and finished the cake off at my parents.
I made a few changes to up the coconut factor and of course I had to add some chocolate. I made one layer rather than two and found that it was the perfect amount. This cake was a hit! I even saw my father-in-law have seconds – unusual for someone who doesn't eat sugar. I will definitely be making this cake again and again (once I get my oven fixed).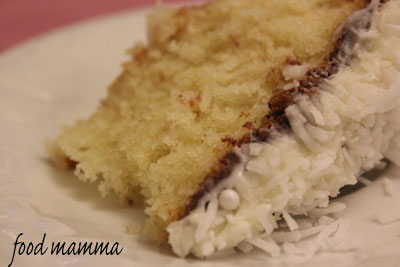 Coconut Cake
1 1/2 sticks butter, softened
1 cup sugar
3 eggs
3/4 tsp vanilla extract
3/4 tsp coconut extract
1 1/2 cups flour
1/2 tsp baking powder
1/4 tsp baking soda
1/4 tsp salt
1/2 cup coconut milk
2 ounces sweetened shredded coconut
nutella
cream cheese frosting (below)
Preheat the oven to 350 degrees and grease one 9-inch round cake pan.
Cream the butter and sugar on medium-high speed for 3 to 5 minutes, until light yellow and fluffy. Add eggs 1 at a time. Add the extracts and mix well.
In a separate bowl, sift together the flour, baking powder, baking soda and salt. Alternately add the dry ingredients and the milk to the batter in 3 parts, beginning and ending with dry ingredients. Mix until just combined and then fold in the coconut.
Bake in the center of the oven for 45 to 55 minutes. Cool on a baking rack for 30 minutes before frosting.
Cover the top of the cake with nutella. Wait 5 minutes before icing the entire cake with the cream cheese frosting and covering it with coconut.
Cream Cheese Frosting
1 package cream cheese
1 stick butter, softened
1/2 tsp vanilla extract
1/4 tsp coconut extract
1/2 pound icing sugar
3 ounces sweetened shredded coconut
Combine the cream cheese, butter, and extracts on low speed. Add the icing sugar and mix.