We are slowly recovering from my sister-in-law's week long wedding extravaganza. It was a great week spent with close family and friends. It was also a week surrounded by lots and lots of food!

Most of the cooking was done by family and they fed crowds of up to 500 people! I tried to do my part and made items such as quinoa salad, couscous salad, kulfi and smores on a stick. One favorite were these little pink cupcakes with chocolate buttercream icing. They were really supposed to be red velvet cupcakes, like the ones I had made last month for my sister's birthday. In my hurry though, I forgot to add the cocoa and out from the oven came these little pink morsels. I figured since I missed out on the chocolate in the cake, we must add some on it.
Congratulations to R2. Wishing you both a lifetime of happiness!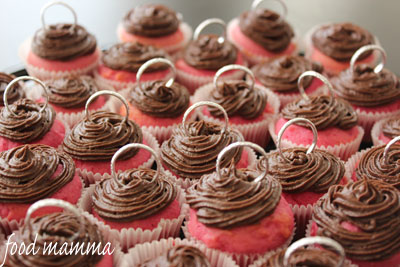 Mini Pink Cupcakes
1 1/4 cups all purpose flour
2/3 cup sugar
1 large egg
1/2 cup homemade yogurt
1/4 cup unsalted butter
1 tablespoons red food coloring
1/2 teaspoon vanilla extract
1/2 teaspoon white vinegar
1/2 teaspoon baking powder
1/2 teaspoon baking soda
1/2 teaspoon salt
Preheat the oven at 350 degrees.
In a large bowl, sift together the flour, baking soda, baking powder, and salt. In another bowl whisk together the buttermilk, vinegar, vanilla extract, and red food coloring. Beat the butter and sugar in an electric mixer until light and fluffy. Add the egg beating until a creamy texture. Add 1/4 of the flour and mix, then add 1/3 of the buttermilk mix .
Continue adding the flour and the buttermilk until all the ingredients are mixed.
Use two teaspoons and carefully scoop the batter into cupcake papers, about 1/2 to 3/4 of the way full. Bake for 12 minutes or until a toothpick comes out clean.
Transfer the baked cupcakes to a wire rack to cool. Chocolate Buttercream Icing
6 tbsp. butter
1 cup powdered sugar
4 tbsp. cocoa
2 to 3 tbsp. milk
Cream butter. Add sugar and cocoa mixture to butter and mix again. Add milk to the butter mixture until a proper consistency is reached.