My parents just celebrated their 37th anniversary! This definitely called for a celebration, and every celebration calls for cake. Tired of making the usual though, I wanted to do something different. I decided to do a cheesecake, a dessert that my dad loves.
I knew this cheesecake needed nuts, chocolate and caramel and after doing a search, this recipe was found on the Kraft website. The layers of caramel and pecans are divine. As good as it tastes when you first make it, it tastes even better the next day, if there's any left!
Happy Anniversary Mom and Dad! Love you lots!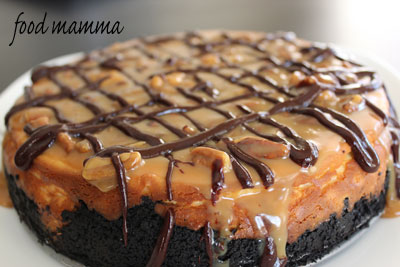 Ultimate Turtle Cheesecake
2 cups chocolate cookie crumbs
6 Tbsp. butter or margarine, melted
1 pkg. caramels
1/2 cup milk
1 cup chopped pecans
3 pkg. cream Cheese, softened
3/4 cup sugar
1 Tbsp. vanilla
3 eggs
2 squares chocolate, melted
Heat oven to 325°F.
Mix crumbs and butter; press onto bottom and 2 inches up side of 9-inch springform pan.
Microwave caramels and milk in small microwaveable bowl on high 3 min. or until caramels are completely melted, stirring after each minute. Stir in nuts; pour half into crust. Refrigerate 10 min. Refrigerate remaining caramel mixture for later use.
Beat cream cheese, sugar and vanilla with mixer until well blended. Add eggs, 1 at a time, mixing on low speed after each just until blended. Pour over caramel layer in crust.
Bake 1 hour 5 min. to 1 hour 10 min. or until center is almost set. Run knife around rim of pan to loosen cake; cool before removing rim. Refrigerate 4 hours.
Microwave reserved caramel mixture 1 min.; stir. Pour over cheesecake. Melt chocolate and drizzle over cheesecake.