Q started unparented swimming classes this week. It amazes me that he's already ready to get in the water without mamma and daddy. Time is flying by so quickly! Swimming days means crazy days – a quick dinner before rushing out the door and making the trek to another part of the city. I had to ensure that just in case hubby came home late from work, he would have something he could just grab and go.
A sandwich seemed like the perfect thing but no ordinary sandwich would do. I had bought lemongrass the day before and thought it would be great with shrimp. Settled into a bun, it was the delicious Asian fast food at home.
After toasting a whole wheat bun, I slathered it with a little bit of mayo and some sambal oelek. A few leaves of spinach held the shrimp which was then topped with onions, red peppers, cucumbers and cilantro. The shrimp was great on its own, but the bun added a great twist.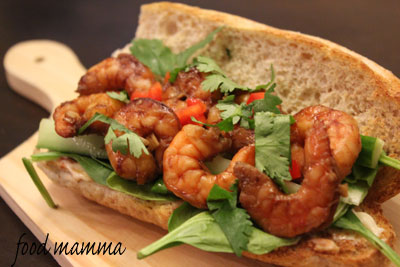 Lemongrass Shrimp
1 pound shrimp
1 TB chopped lemongrass
1 TB fish sauce
1 tsp grated ginger
1 tsp sesame oil
2 tsp soya sauce
2 tsp teriyaki sauce
Mix everything together and marinate for one hour. Place on greased sheet and bake at 350 degrees for 10 minutes.