When planning hubby's birthday last month, I knew I wanted to make a tagine to keep with the theme of the party, "An Arabian Afternoon". I had actually never had tagine, I just knew that it was an earthy Moroccan stew. I searched many recipes trying to find something easy that had ingredients I already had in the house. I finally settled on one by Melissa D'Arabian (Ten Dollar Dinners). Not being a big fan of olives, I left those out. I tested the recipe a week before the party and it was a success! Hubby loved it so much, he finished the entire thing – always a good sign. The combination of the turmeric and cinnamon gave the tagine a deep flavour. Although preserved lemons were called for in every recipe that I looked at, we both weren't fans. When I made the dish for the party, we left that out. Everyone really seemed to enjoy the tagine and it was wonderful on couscous, a great vehicle to absorb all that yummy sauce.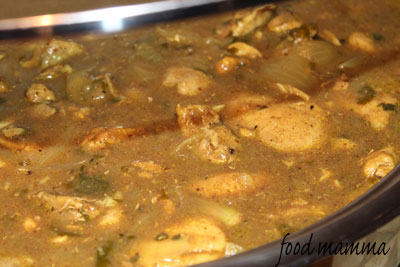 Chicken Tagine
Adapted from Melissa D'Arabian2 pounds chicken thighs, cut into large pieces
1 TB butter
2 TB olive oil
1 onion, chopped
1 TB ginger, minced
1/2 tsp turmeric
1/2 tsp cinnamon
3 cloves garlic, minced
1/2 cup chicken broth, divided
Flat leaf parsley, handful
Cilantro, handful
Salt Pepper
Pat the chicken dry, and season well with salt and pepper.
Heat the butter and olive oil over medium-high heat, and brown the chicken on all sides. Add the onion, ginger, turmeric, cinnamon, and cook until onion is translucent, about 3 minutes. Season with salt and pepper, and add the garlic and stir for a minute. Increase heat and deglaze with half the broth, stirring, and allowing it to bubble. Add the remaining broth and bring to a boil. Lower the heat, and cover and simmer gently for 45 minutes.