Pecan tarts are one of my favorites. The pecans, the gooeyness, even the raisins, who wouldn't love it? I've always wanted to try making these but the idea of making tart shells kind of put me off. When I found this recipe for squares and an easy shortbread bottom, I quickly put it on my list of baking to do over the holidays. Although I made these to distribute, none of them made it out the door. They were delicious and satisfying and by the time I was putting together packages, there weren't many squares left!
Unfortunately I don't remember where I found this recipe. It's easy and delicious though, so definitely try it out!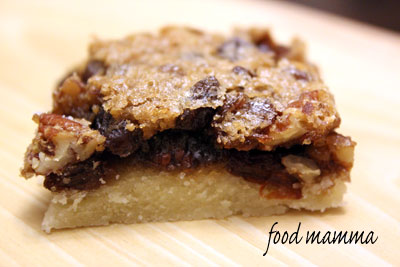 Butter Pecan Squares
1 cup flour
1/4 cup sugar
1/2 cup butter
2 TB melted butter
2 eggs
1 cup brown sugar
2 TB flour
1/2 tsp baking powder
1/2 tsp vanilla
pinch of salt
1 cup raisings
1 cup chopped pecans
Combine flour and sugar and cut in the cold butter until the dough is crumbly. Press the dough into a 9″ square pan and bake at 350 degrees for 15 minutes
In a bowl, mix together the remaining ingredients. Pour over the baked base and bake at 350 degrees for another 25 minutes.