One of the easiest cookies to make with minimal ingredients is a palmier. I decided to change up my usual 2-ingredient version by adding some jam. I had made some cherry jam over the summer and thought it would go great with the crisp layers of puff pastry. The sweet jam added so much flavour and the resulting cookies were quite addictive. I made the mistake of only using one puff pastry sheet, meaning not many left over to share!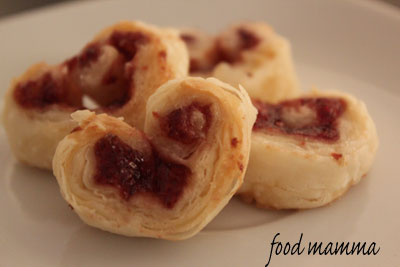 Cherry Jam Palmiers
1 roll of puff pastry
3 TB jam of your choice
Sugar
Unroll one sheet of puff pastry. Spread the jam evenly on the pastry. If making mini palmiers, cut the sheet in half. Roll the pastry from the horizontal ends into the middle. Refrigerate for 10 minutes and then cut the roll into pieces. Sprinkle each piece with sugar and place on parchment paper. Bake at 350 degrees for 10 to 15 minutes.