I was looking for a quick sweet treat to make the other day for a gathering when I remembered my mom's coconut jam tarts. She's been making these for years and, if you love coconut, these are the perfect indulgence. It's a great way to use up some of the jam you may have made over the summer and by using premade tart shells, this dessert takes only minutes to prepare. The combination of the sweet jam with the flaky pastry and the buttery coconut topping is delicious!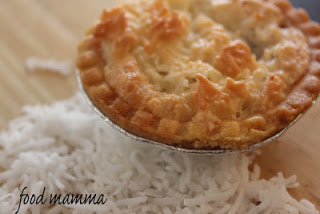 Coconut Jam Tarts
1/2 cup butter
1 cup sugar
3 eggs
3 cups shredded coconut
35 mini tart shells
jam
Cream together the butter and sugar. Add the eggs. Mix in the coconut.
Place 1/2 tsp of jam at the bottom of each tart shell. Cover the jam with a spoonful of the coconut mixture.
Bake at 350 degrees for 25 – 30 minutes.