Hubby came home today after being away for ten days. Yay! It felt like he was gone for ages and Q and I were really happy to have him home. I made sure to welcome hubby home with one of his favourite meals – kofta curry.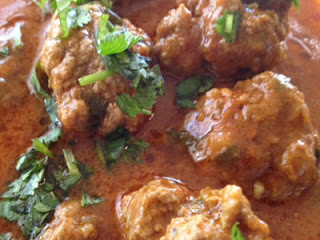 This recipe is his mom's recipe, kinda sorta. She has mastered every dish without a recipe so, although I was able to get the ingredients, I had to guess on some of the measurements.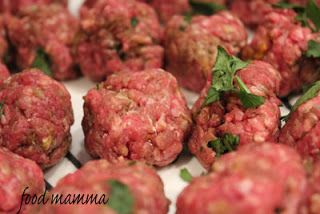 The meal turned out great! The curry was tasty and flavourful and the meatballs were soft and tender. Hubby ate his over rice while I ate sopped mine up with delicious roti. Even Q loved it, licking his fingers and saying "mmmm….".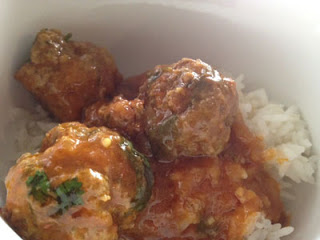 Kofta Curry
1.5 pounds ground beef
1/2 heaping TB crushed garlic
1/2 heaping TB crushed ginger
1/2 TB ground cumin
1/2 TB ground coriander
1/4 tsp tumeric
2 tsp lemon juice
1/2 tsp salt
handful chopped cilantro
2 TB oil
6 TB crushed tomatoes
3 TB fried onions
2 tsp tomato paste
1 tsp ground cumin
1 tsp ground coriander
2 tsp lemon juice
1/4 tsp tumeric
1/2 tsp salt
1 TB garlic
1.5 cups water
Mix the ground beef with the spices until incorporated. Make into small balls.
Add the tomatoes and spices to the oil and cook the spices for a couple of minutes. Add the water and let it come to a boil. Carefully place the meatballs into the pan and cook on high for about 10 minutes. Reduce the heat and let it simmer for another 10 to 15 minutes. Sprinkle with cilantro and serve over rice or with roti.