Happy Father's Day! Hope all the wonderful loving fathers got spoiled today! We spoiled our dads with a bbq. When Barbecues Galore sent me this gift basket a little while ago, hubby was itching to grill. We cracked open the basket and did our usual short ribs and chicken.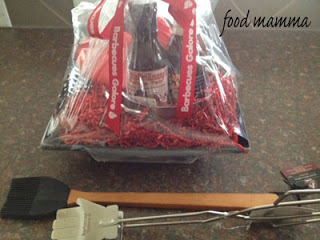 I saved the barbecue sauce (Gopher Guts and Dr. McGrill's) though, planning to make those huge beef ribs
like the ones from Tony Roma's. If we were going to do ribs, Father's
Day was the day to do it.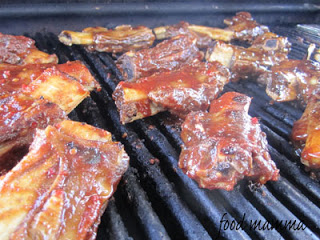 We wanted to have the meat just fall off the bone so we had them in the oven early. Once the meat was nice and soft, we slathered them with barbecue sauce and put them on the bbq. The result was a tender, saucy, finger-licking piece of meat.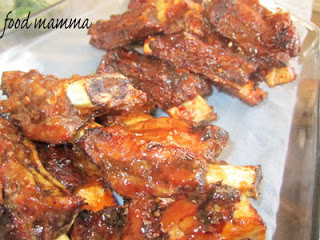 Barbecued Beef Ribs
Beef ribs
Your favourite bbq sauce
Cut the ribs into pieces and season with salt and pepper. Brush with barbecue sauce, wrap with foil and place in a roasting pan. Cook in a 275 degree oven for 3.5 to 4 hours. Once the meat looks like it is cooked and falling off the bone, place on bbq basting with the bbq sauce. Enjoy!