Culinary icon Julia Child would have turned 100 years old this year in August. To honour her, a national campaign, JC100 was launched with bloggers, chefs and many others participating as part of a community and paying tribute to Julia.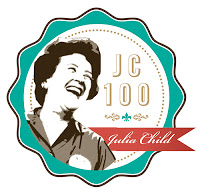 Every week, a new recipe from Julia's collection is released and redone by the JC100 community. I have been meaning to participate but haven't been able to until this week, with Sole Meuniere.
Sole Meuniere was Julia's first meal in Paris and inspired her love affair with food. This is the perfect recipe outlining the French cooking philosophy of simplicity. This dish was a hit in our house, especially with hubby. It didn't take long to make, was easy and tasted delicious!
Fillets of Sole Meuniere
(Fillets of sole sauteed in butter)
Excerpted from The Way to Cook by Julia Child. Copyright © 1989 by Julia Child. Reprinted with permission from the publisher Alfred A. Knopf, a division of Random House, Inc.
For 6 servings
6 skinless and boneless sole, 4 to 6 ounces each and 3/8″ thick
salt and pepper
1/2 cup or so flour in a plate
4 TB clarified butter
2 TB minced fresh parsley
4 to 6 TB unsalted butter
1 lemon, cut into wedges
Dust the fillets lightly on each side with salt and pepper. The moment before sauteeing, rapidly drop each into the flour to coat both sides, and shake off the excess. Set the frying pan over high heat and film with 1/16 inch of clarified butter. When the butter is very hot but not browning, rapidly lay in as many fillets as will fit easitly, leaving a little space between each. Saute a minute or two on each side. The fish is done when just springy rather than squashy to the touch of your finger. Immediately remove from the pan to warm plates or a platter.
Sprinkle each fillet with parsley. Wipe the frying pan clean, set over high heath, and add the fresh butter; heat until bubbling and pour over the fillets – the parsley will bubble up nicely. Decorate with lemon wedges, and serve at once.