Earlier this month, I was contacted to participate in the Hidden Valley Ranch Recipe Challenge. This involves creating a recipe using the signature ranch dressing or the two new flavours, cheesy and spicy. This contest is against 15 Canadian food bloggers and besides a prize of a Kitchen Aid mixer or gift certificates to Williams Sonoma, the winning recipe will be demoed live by Chef Ned Bell at the Calgary Stampede. The Stampede is one of my favourite events so to win would be pretty awesome.
Over the next few days, I will be blogging about a few of my creations. I would love to know what you think!
The first is fried pickles, completely inspired by my visit to Calgary's second Smashburger location. I loved them the first time I went there, and when I took Q to the newest location, he loved them more than I did.
Instead of dipping the pickles in eggs, I used the Cheesy Ranch dressing as the binder for the panko breading. This added a great flavour and the dressing doubled as a dip for the crispy bites.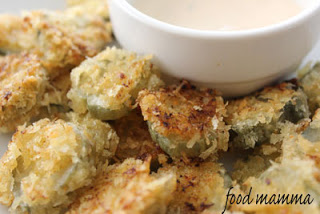 Cheesy Ranch Fried Pickles
4 large pickles, sliced
1/2 cup flour
1/2 cup Hidden Valley Ranch, cheddar flavour
1 cup panko
Place the sliced pickles between two pieces of paper towel and pat them dry. Place the flour, dressing and panko in three separate bowls. Dredge the pickles in flour, then the dressing and then panko. Fry until golden brown.