Here is one of the recipes that I will be submitting for the Hidden Valley Ranch Recipe Challenge. I had loads of cherry tomatoes in the fridge and wanted to incorporate them somehow with ground turkey. I love the idea of stuffed anything, it's just such a great surprise for the person enjoying the food. I added the regular ranch dressing to the meatballs and it added a creaminess to the meat that you can't get with soaked bread or milk. This was a favourite amongst most of my taste testers. I would love to know what you think!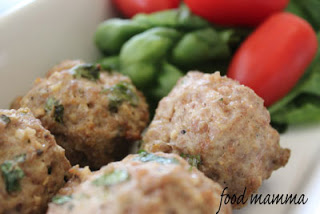 Cherry Tomato Ranch Meatballs
1 pound ground turkey
1 tsp garlic
1 tsp ginger
1/2 tsp coriander powder
1/2 tsp cumin powder
1/4 cup ranch dressing
bunch cilantro, chopped
salt
pepper
12 cherry tomatoes
Mix together the turkey and spices until well combined. Divide the meat into 12 balls and shape them around the tomatoes. Place on a greased pan and bake at 350 degrees for 40 minutes.