This is another recipe that I will be submitting for the Hidden Valley Ranch Recipe Challenge. With it being bbq season, I had to do something that I could just throw on the grill. My first attempt with these were with regular Ranch dressing but hubby thought the spice of the Spicy Ranch would be the perfect kick. He was right! The heat was just enough, not overpowering at all, and even Q was able to eat it. Out of all the recipes that I had come up with, this was unanimously the favourite amongst my family and friends. Hope it's a winner!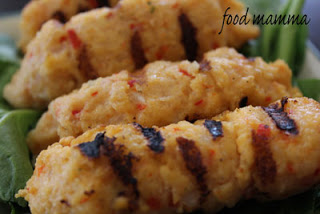 Spicy Ranch Shrimp Kebabs
1 pound shrimp, chopped
1/4 cup spicy ranch dressing
1 TB garlic
1/2 red pepper, diced
1/2 onion, diced OR 2 green onions, chopped
1 1/2 cups panko
Mix together shrimp with all the ingredients. Shape into kebabs using the end of a wooden spoon. Place on a grill until the shrimp are cooked.