There is nothing like a refreshing glass of lemonade on a hot day. I watched Michael Smith make this the other day on Chef at Home and have
been thinking about it ever since.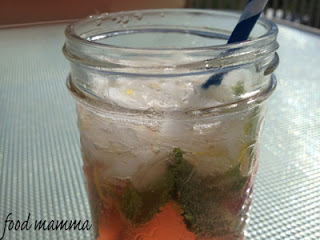 We changed this up a little bit by adding mint and using sparkling water.
Since Q doesn't like anything fizzy, we divided the mixture into two
containers, making one with still water and one with bubbles. Q was happy to help in the kitchen, juicing all the lemons needed for the lemonade.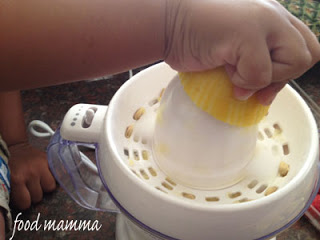 This was a very pretty drink to look at, the raspberries making it a
beautiful pink and the strands of lemon zest and pieces of green mint
adding pops of colour.It was tangy and quenched
everyone's thirst.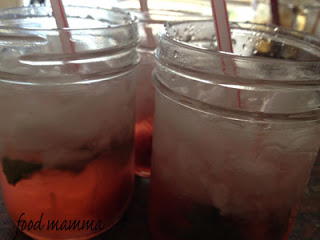 Raspberry Mint Lemonade
Adapted from Michael Smith via Food Network
2 cups frozen raspberries
The juice and zest of 10 lemons
1 cup sugar
Bunch of mint, torn
6 cups of sparkling water
Fill a large pitcher or mason jar with ice and add frozen raspberries, lemon zest, juice, mint and sugar. Stir well to dissolve the sugar and fill up with water.