One of my new favourite shows is Bake with Anna Olson. It's like a teaching cooking show, where Anna shows you a technique or a skill and builds on it, starting with simple to complex. When I watched the episode with brownies, I knew I had to make them!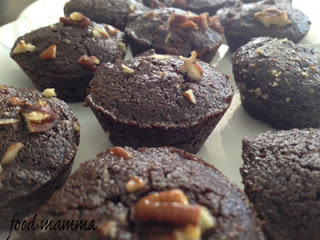 I had a house full of people coming in a couple of hours and had errands to run and cleaning to do, but I still had to squeeze in brownie-making time. It didn't take long at all to put these together and all in one pot – a bonus! I didn't have time to roast the pecans in butter and salt and just tossed them in but the brownies still tasted really good. I opted to use a mini muffin tin and made them into two bite brownies.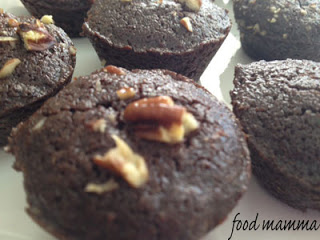 The aroma of the chocolate filled the house and it was intoxicating! They were easy to make and so delicious, I know I will be making these again and again.
Fudge Brownies
Adapted from Food Network, Bake with Anna Olson
4 ounces unsweetened chocolate, chopped
1 1/4 cups unsalted butter, cut into pieces
1 cup granulated sugar
3/4 cup packed light brown sugar
3 large eggs, room temperature
2 teaspoons vanilla extract
1 cup all-purpose flour
1/4 cup cocoa powder
1 cup pecans
Preheat the oven to 350 degrees F and grease a mini muffin pan for 24 brownies.
Melt the chocolate and butter in a medium pot over medium-low heat, stirring until melted. Remove the pan from the heat and whisk in the sugar and brown sugar right into the pot. Whisk in the eggs one at a time, then whisk in the vanilla. Stir in the flour and cocoa powder until evenly combined.
Roughly chop the pecans and stir most of them into the brownie batter. Divide the batter into the muffin pans and sprinkle the remainder of the pecans on top.
Bake for about 20 minutes, until the tops of the brownies lose their shine. Cool the brownies for an hour before removing from the tin.