Lidia Bastianich is a culinary icon. Writing best-selling cookbooks, having multiple restaurants as well as being a celebrated television personality, she is one of the most beloved Italian chefs.
I was excited to get her new cookbook, "Lidia's Favorite Recipes" which she co-authored with her daughter Tanya Bastianich Manuali. The book has some amazing recipes with full page coloured pictures.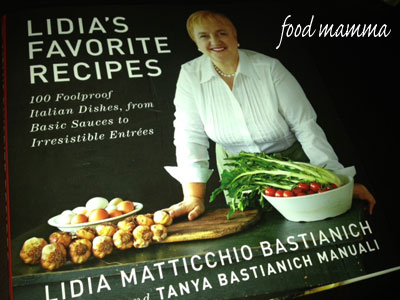 Crafted from 100 of Lidia's recipes, it was hard to decide what I was going to cook first. Eggplant Parmigiana, Ziti, Crepes…there was so much to choose from! I decided to do something quick and easy, the Shrimp Buzara Style. It was a delicious dish with amazing flavour and it came together so quickly. The shrimp was tasty and the sauce was so flavourful, perfect for sopping up with some bread. I'm definitely going to make this for my next dinner party.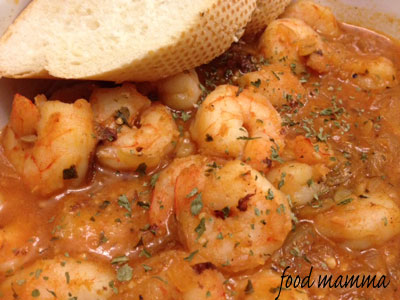 Want to win your own copy of Lidia's awesome book? Comment here, leave a post on Facebook or send a tweet. Contest closes on Black Friday at 11:59PM MST. A winner will be chosen at random. Good luck!
Shrimp Buzara Style
Printed from Lidia's Favorite Recipes
2 pounds super colossal shrimp
1 TB tomato paste
1 cup hot light fish stock
1/4 cup olive oil
1/2 cup finely chopped onion
2 cloves garlic, crushed and peeled
salt and pepper to taste
1 cup dry white wine
1 TB breadcrumbs
1 TB chopped fresh Italian parsley
Using poultry shears or a sharp paring knife, cut through the outer curve of the shrimp shells from end to end, but don't remove the shells. Rinse the shrimp under cold running water, and devein.
Dissolve the tomato paste in the hot stock. Heat 2 TB of olive oil in a medium saucepan. Add the onion and garlic, and saute over moderately high heat until golden. Season with salt and pepper, add the win, and bring to a boil. Add the stock-and-tomato-paste mixture, reduce the heat, and simmer 20 minutes.
Meantime, heat the remaining oil in a large skillet, add the shrimp, and saute (in two batches) 1 minute on each side. Drain off the oil, return all the shrimp to the skillet, and add the sauce. Cover, and cook over high heat, stirring occasionally, until the shrimp pare just cooked through, about 2 or 3 minutes. Sprinkle with breadcrumbs and parsley, mix well, and cook a minute longer, uncovered. Serve immediately.