I was really excited to finally make a visit to Dallas. Q and I tagged
along with my parents to spend some time celebrating my aunt's huge
accomplishment in obtaining her masters degree (her second!). It was so great spending time with her and
her husband and finally meeting my cousins.
Though a lot younger than me, we had a great time bonding, especially
over burgers at In and Out
No celebration is complete without a meal so we grabbed a
quick bite at one of their favourite places,
Bombay Chopstix
. Tucked away in a strip mall, they served
Indian Chinese food. This is the type of
food we had a few times in India and it definitely reminded me of past trips. Chinese dishes with indian influences and
spices.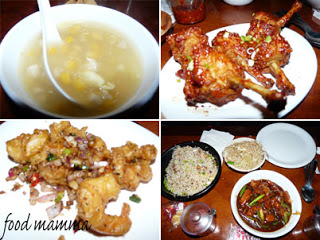 We started our meal with soup, Corn and Hot and
Sour. Knowing that most of the meal would be spicy, I opted to stick to the
mild corn soup. The corn was sweet and
it was a fantastic way to start the meal.
Everyone else at the table loved spice, all adding some hot chilis to
the already spicy food. I was definitely
the spice weakling of the group.
This was followed by the Chicken Lollipops. Pieces of chicken drumsticks with the meat
pulled up, making it into a chop. I think this was my favourite part of the
meal. The breaded chicken was tossed in a spicy szechuan sauce – so good. My second favourite part of the meal was the Pepper Salt Shrimp. Breaded and seasoned with
chilis and garlic, it was gone in no time.
We also had some Chili Chicken which was super spicy. Thank goodness for the rice which absorbed
some of the heat.
All in all, it was a great place with good food, reasonable prices and great service.