Mint and chocolate. What a perfect combination. It works well with coffee (peppermint mochas, yum!), cookies and definitely dessert. It was the inspiration for some cupcakes I made a couple months ago for hubby's birthday. Although I had made some ice cream cake to celebrate at home, I thought it would be fun to send some cupcakes for him to celebrate at work. Hubby's co-workers were treated to After Eight Cupcakes – chocolate cake topped with peppermint buttercream.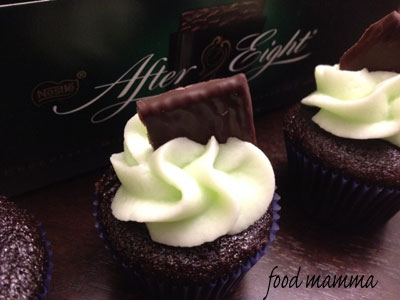 The combination worked well and so I made them again this weekend. Instead of using the chocolate as a garnish, I used candy canes. The Candy Cane Cupcakes were made for the Food Blogger Bake Sale.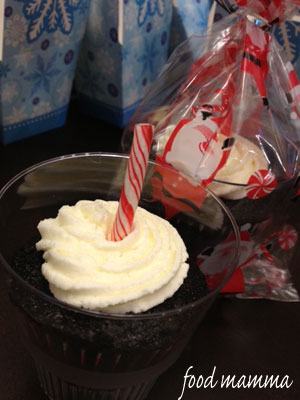 A Holiday Edition of the bake sale was created to raise funds for Meals on Wheels. Fellow food bloggers Vincci and Dan have worked hard in planning and promoting this event – you guys are awesome! When I went down this morning, the tables were full of yummy goodies and creative packaging. The event has been extended to tomorrow so be sure to go down to Casel Marche, try some wonderful baking while benefiting a great cause.