I am excited to participate in this year's Food Blogger Cookie Swap. What a fun way to bring together food bloggers from around the world! You'll see a post on December 12th as to what I made, and sent to three fellow bloggers. There was some testing along the way and this is one test that was pretty tasty.
Chocolate and mint just go so well together, so when I saw this recipe on Foodess, I knew I had to try it. The cookies turned out so good! The only reason I didn't use them for the cookie swap was that they were on the soft side and I didn't think they would be great for shipping.
These cookies were so yummy! They were soft and quite rich, so they paired perfectly with a cold glass of milk. The taste combination is perfect for those wanting to do some Christmas baking. They are definitely on my list of things to make this year.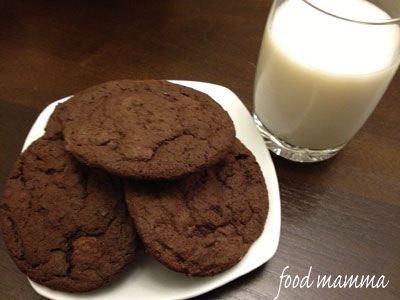 Mint Chocolate Cookies
From Foodess
1 cup butter, softened
1¾ cups sugar
2 eggs
2 tsp peppermint extract
2 cups all purpose flour
1 cup cocoa
1 tsp baking soda
½ tsp baking powder
½ tsp salt
1 cup chocolate chips or dark chocolate chunks
Preheat oven to 350°F. Line 2 baking sheets with parchment paper.
Using an electric mixer, beat butter and sugar in large bowl until well blended. Beat in eggs and peppermint extract. Gradually add flour, cocoa powder, baking soda, baking powder and salt and beat until well blended. Stir in chocolate chips. Form dough into 1-inch balls. Place 2 inches apart on prepared baking sheets. Flatten balls slightly.
Bake cookies until edges begin to firm but center still appears soft, about 9 minutes. Cool on baking sheets 5 minutes. Transfer cookies to racks and cool completely.