The recipe for cauliflower "bread" sticks were making the rounds on Pinterest a while ago and I finally had a chance to make them this week. They were so good, I had to make a second batch the same day.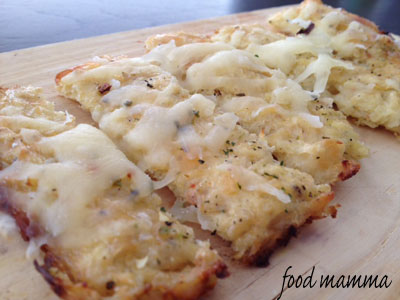 Looking at them, you would never guess that these sticks were made out of cauliflower! Combined with eggs and cheese, they were irresistible. I think they are hubby's new favourite thing.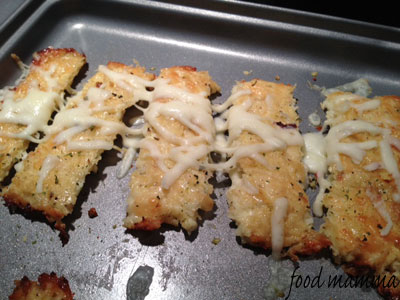 This also makes a fantastic crust for a pizza! This is an amazing recipe that is so full of flavour. With a sometimes picky four year old, I love that it incorporates veggies in a very sneaky way.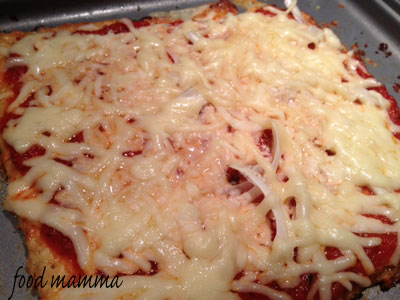 Cauliflower "Bread" Sticks(From An Edible Mosaic)
1/4 of a large head of cauliflower or 1 1/2 cups grated
1 teaspoon olive oil
2 cloves garlic, grated or minced
1 large egg, lightly beaten
4 oz mozzarella cheese, freshly grated and divided (low-fat cheese is fine)
1/2 teaspoon dried Italian herb seasoning, divided
salt
pepper
Preheat the oven to 350F. Line a tray with parchment paper and spray it with cooking spray.
Grate the cauliflower, using a cheese grater or a food processor. Put the grated cauliflower into a microwave-safe bowl and microwave (uncovered) until softened, about 6 to 8 minutes, stirring occasionally (don't add water or anything else); cool slightly.
To the bowl with the softened cauliflower, add the garlic, egg, 3/4 of the cheese (reserving 1/4 for topping later), 1/4 teaspoon of the dried Italian herb seasoning (reserving 1/4 teaspoon for topping later), and a pinch of salt and pepper. Stir to combine and then spread on a sheet pan forming it into a pizza crust.
Bake until set and starting to turn golden, about 30 minutes.
Preheat the broiler. Cut the crust into sticks. Slightly separate the pieces and sprinkle the cheese on top along with the remaining 1/4 teaspoon dried Italian herb seasoning. Broil a couple minutes until the cheese is melted and golden in spots. Serve hot or warm. (If you let it cool for about 10 minutes after taking it out of the oven, the crust will harden a bit so it's easy to hold like a thin-crust pizza.)