On Saturday, hubby and I headed to Banff for the Rocky Mountain Wine and Food Festival. It was a lovely day to go and we enjoyed some amazing food. Lamb, Scallops, Plantain, Chocolate Dipped Baklava, Seafood Risotto – it was amazing!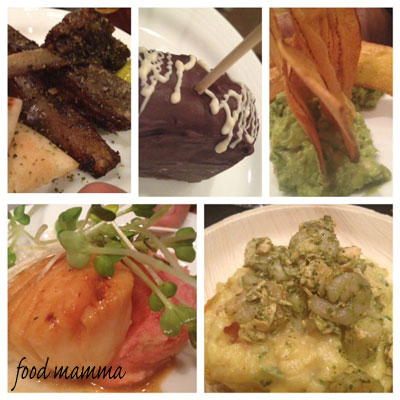 The next morning Q came running into my room with a bag full of presents, some things he had bought me, some he had picked out from his toy collection. He has the biggest heart ever!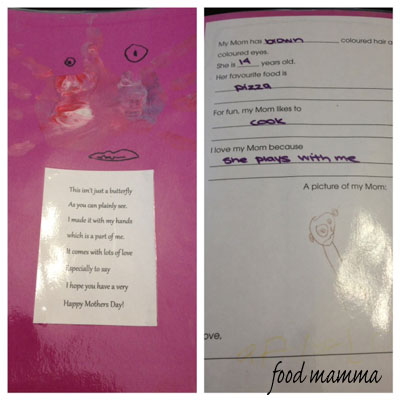 We had invited our families over for a Mother's Day brunch. This year, I wanted to do something different, something a little Indian. I figured it would be a nice surprise and a slight change from the eggs we were considering doing.
I decided on paya, a favourite for both moms. Paya is an Indian/Pakistani dish made with goat trotters. The flavourful broth is eaten with french bread and then the marrow from the bones is eaten. I find that people either love it or hate it. Hubby didn't want me to work too hard but this was the easiest of meals. I tossed everything into a slow cooker the night before and it was ready to go in time for brunch. The meal was a success and it was minimal effort for a lot of praise.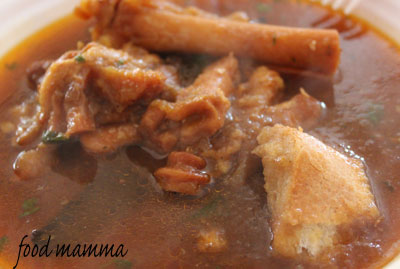 Paya
2 pounds goat trotters
3 medium onions, blended
3 cinnamon sticks
10 black peppercorn
5 cardamom pods
5 cloves
2 TB salt
2 tsp crushed garlic
2 tsp crushed ginger
1 tsp chili powder (or more if desired)
1/2 tsp turmeric
1 tsp paprika
cilantro
Wash the trotters really well and place in a slow cooker. Add the onions and spices, except for the paprika and cover with enough water. Let cook for 8 to 10 hours on low. Right before serving, add the paprika, enough to get the desired colour. Sprinkle with cilantro and serve with french bread.