We love avocados around here. We put them in everything, from eggs to sandwiches, and guacamole is a regular in this house. When I saw pictures of avocado chocolate chip cookies pop up on Instagram, I quickly went searching for the recipe. This recipe comes from Gaby Dalkin's new book "Absolutely Avocados" and I was happy for the find over at Eat Live Run.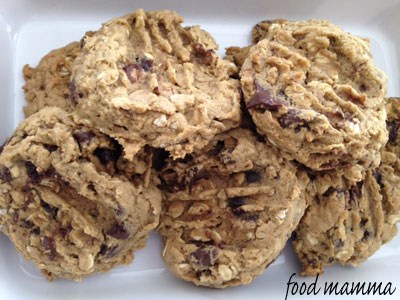 I wasn't sure what to expect so the first time I made these, I just made half a batch. We took them to soccer and the cookies were gone in a flash. The cookies were hearty and chocolatey and were a hit among both the kids and the parents.
The second time I made these cookies, some of the avocado didn't get mixed in as well and you could see flecks of green among the oats and chocolate. I was happy to find that the bright green didn't turn colour like raw avocados do. I also added a handful of nuts for some crunch. I'll definitely be making these again. Surely, if a cookie has some greens, its good for you, right?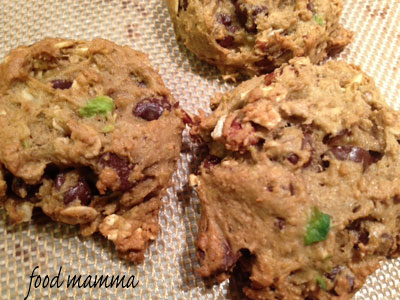 Avocado Chocolate Chip Cookies
From Absolutely Avocados via Eat Live Run
1 avocado
1 stick unsalted butter, room temperature
1 1/2 cups dark brown sugar
2 large eggs
2 tsp pure vanilla extract
2 cups all purpose flour
1 tsp baking soda
1 tsp salt
1/2 tsp baking powder
1 1/2 cups old fashioned oats
1 3/4 cups semisweet chocolate chips
Cut the avocado in half and scoop out the flesh into a large bowl. Add the butter and brown sugar. Cream together until fluffy.
Add the eggs, one at a time, followed by the vanilla. Mix well until well combined.
Add the flour, baking soda, salt and baking powder. Mix slowly then add the chocolate chips and oats. Be careful not to overmix here. Place the dough in the fridge to chill for one hour.
Preheat the oven to 325 degrees. Line a baking sheet with parchment paper. After the dough has chilled, scoop out spoonfuls of dough on the baking sheet and press down gently with your hand to flatten. Bake for 18 minutes, until golden brown. Repeat with remaining dough.