I've been trying to keep the fridge stocked with cut veggies, so that there are always healthy snacks on hand. The carrots and broccoli and the snap peas and red peppers, are all happily enjoyed, being dipped in hummus or yogurt. The cauliflower always seems to get left behind. I was tempted to make the cauliflower bread sticks but knew Indian flavours would make hubby pretty happy.
I played with the flavours and the end result was a success! The fragrant veggies are perfect eaten on their own or with a bowl of basmati rice.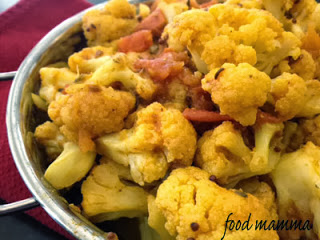 Cauliflower Curry
Oil
1/2 tsp mustard seeds
1/2 tsp cumin seeds
1/2 head cauliflower
2 – 3 tomatoes, cubed
1 tsp tomato paste
1/2 tsp ginger
1/2 tsp garlic
1/2 tsp cumin powder
1/2 tsp coriander powder
1/2 tsp salt
1/4 tsp turmeric
1/4 cup water
Heat some oil in a pan and add in the mustard and cumin seeds. When they start popping, add in the cauliflower, tomatoes and spices. Stir so that the cauliflower is well coated. Add the water and cover with a lid. Cook until the cauliflower is tender and the water has evaporated.