When given a choice, Q would rather have a home cooked meal over eating out. He doesn't like the usual things you can find on a kids menu. Chicken strips and mac and cheese, forget about it. A bowl full of chili though, and he's a happy camper.
I tweaked my original chili recipe, omitting chili powder all together and adding more of everything else to ensure a flavourful bowl of goodness. With everything thrown into the slow cooker the night before, we have a hearty lunch ready in the morning with hardly any effort.
You know its a great recipe when my picky little guy asks for seconds. Q likes his topped with cheese, lots of it. It's also great with some sour cream and green onions or over a baked potato.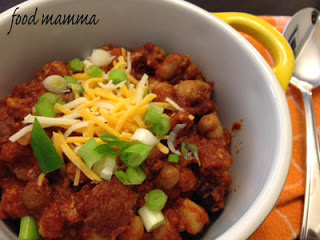 Turkey Chili
2 pounds ground turkey, browned and drained
2, 19 oz cans of mixed beans, drained
1, 28oz can crushed tomatoes
2 cloves garlic, minced
3 tsp coriander powder
2 tsp sweet paprika
1 tsp salt
1 tsp pepper
1 TB olive oil
1 large onion, chopped
1/2 cup water
Combine all ingredients in slow cooker and mix thoroughly.
Cook on low for 8 hours. Top with cheese, onions or sour cream.
Combine all ingredients in slow cooker and mix thoroughly.
Cook on low for 8 hours. – See more at: http://www.foodmamma.com/2010/09/comforting-slow-cooker-chili.html#sthash.Xk50XJIz.dpuf
Combine all ingredients in slow cooker and mix thoroughly.
Cook on low for 8 hours. – See more at: http://www.foodmamma.com/2010/09/comforting-slow-cooker-chili.html#sthash.Xk50XJIz.dpuf
Combine all ingredients in slow cooker and mix thoroughly.
Cook on low for 8 hours. – See more at: http://www.foodmamma.com/2010/09/comforting-slow-cooker-chili.html#sthash.Xk50XJIz.dpuf
Combine all ingredients in slow cooker and mix thoroughly.
Cook on low for 8 hours. – See more at: http://www.foodmamma.com/2010/09/comforting-slow-cooker-chili.html#sthash.Xk50XJIz.dpuf
Combine all ingredients in slow cooker and mix thoroughly.
Cook on low for 8 hours. – See more at: http://www.foodmamma.com/2010/09/comforting-slow-cooker-chili.html#sthash.Xk50XJIz.dpuf
Combine all ingredients in slow cooker and mix thoroughly.
Cook on low for 8 hours. – See more at: http://www.foodmamma.com/2010/09/comforting-slow-cooker-chili.html#sthash.Xk50XJIz.dpuf