Earlier this week, we celebrated Eid-Al-Adha, the festival of sacrifice. As with any major occasion, we celebrate with food. One dish that you will find at any special occasion, like Eid or a wedding, is biryani. Biryani is a rice dish topped with a reduced curry of chicken, beef or prawns.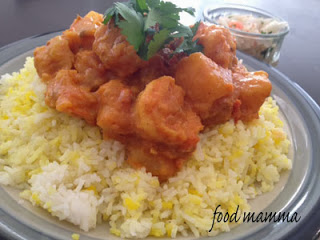 I figured this Eid would be a great excuse to try out a new dish. I have been following Fauzia's Kitchen Fun for a while and all her recipes look great. I was excited to give her Prawn Biryani a try. The recipe was easy to follow along and the end result was a tasty dish.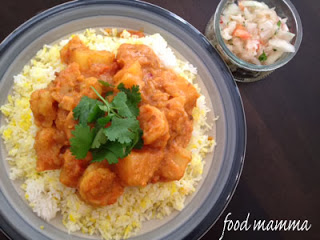 I did make a few changes since my decision to make this was so last minute and there was no time for marinating over night and I also didn't have all of the ingredients. This is best served with raw onions, tomatoes and cilantro topped with some lemon juice.
Prawn Biryani
Adapted from Fauzia's Kitchen Fun
Prawns Masala:
oil
1 pound prawns
1/2 tsp garlic paste
6 TB fried onions
2 tomatoes
1/2 cup yogurt, whipped
2 TB tomato paste
1 tsp garlic paste
1/2 tsp ginger paste
juice of half a lemon
pinch of saffron
1/4 tsp turmeric powder
1 tsp cumin powder
1 cinnamon stick
1 cardamom pod
1 tsp cumin seeds
1 large potato, boiled and cubed
4 TB chopped coriander
Heat oil and add the prawns, frying until translucent. Drain and set aside.
Add the cumin seeds, cardamom and cinnamon to the oil. Once they start popping, add the chopped tomatoes, sprinkle a bit of salt on them, and fry until all the moisture evaporates.
Combine the yogurt, 3 TB of the onions, the tomato paste and the saffron in a bowl.
Once the tomatoes have dried, add the ginger, garlic, turmeric and cumin powder. Fry for a minute and add the yogurt mixture. Cook this down for 2 to 3 minutes until it thickens. Add the prawns, remaining onions and potatoes and simmer together on low heat. Add salt as desired. Top with coriander.
Rice:
Wash then soak 3 cups of rice in water for about 20-30 minutes.
Soak a few saffron strands in some water and set aside.
Bring a big pot of water to boil, add salt, 4 cardamom pods, 2-3 cinnamon sticks and 2-3 cloves plus about 2 tbsp. of oil.
Drain the soaked rice and add it to this water when it is boiling. Cook until the rice is about 3/4 done, remove and strain out all the water. Put half the rice back into the pan, drizzle about 2-3 tbsp. of oil and the saffron water. Add a bit of orange color on one side and mix it up a bit with a spoon and add the remaining rice. Then cover the pot tightly. Steam this on low heat for 15minutes or put in a 180 C preheated oven for about the same time. Serve the rice with the prawns on top.