It's Grey Cup weekend and although the Stampeders didn't make it, there are many people holding parties this Sunday. What's a must at any Grey Cup party? Salsa!
I have been wanting to make Ree's salsa every since I saw it on The Pioneer Woman. It is super easy to make and this recipe makes a lot! It's perfect for when you're having a big gathering to watch the big game. It would also make great Christmas gifts, a nice break from all the sweet treats.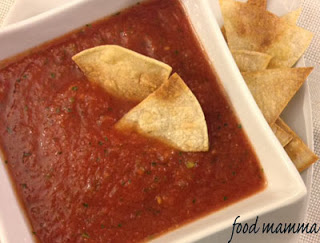 I didn't have the tomatoes with the chilis so I upped the spices. I love all the green specks from the cilantro! The salsa was delicious and paired nicely with some baked corn tortillas. Cut into triangles, drizzle with olive oil and bake at 400 degrees until golden brown.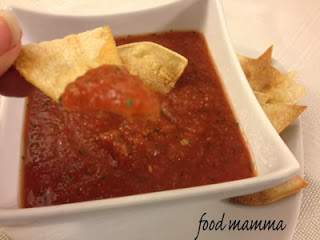 What are you serving at your Grey Cup party?
Restaurant -Style Salsa
Adapted from The Pioneer Woman
Two 10-ounce cans diced tomatoes

One 28-ounce can whole tomatoes with juice

1/2 cup fresh cilantro leaves

1/4 cup chopped onion

1 clove garlic, minced

1 whole jalapeno, quartered and sliced thin, with seeds and membrane

1 teaspoon ground cumin

1 teaspoon salt

1/4 teaspoon sugar

1 whole lime, juiced
Combine the tomatoes, cilantro, onions,
garlic, jalapeno, cumin, salt, sugar and lime juice in a blender or food
processor. Enjoy!