I was very excited to participate in a blogging opportunity featuring USA Rice.
In
our house, we mostly use Basmati and I was happy that I was able to
find one that was grown in the US, so that I could feature it in a
recipe. Normally, I cook rice in a rice cooker. For this recipe though,
the stove top and oven were used for the delicious seafood paella.
Check out this video featuring one of Canada's culinary experts, Rose Reisman.
Here are some interesting facts about rice:
The
U.S. is one of the largest exporters of rice, supplying about seven per
cent of the rice that enters world trade. Approximately 45 per cent of
the U.S. rice crop is exported to more than 100 countries.
There are approximately 30 mills in the U.S.
Canada produces no rice of its own. Canadian wild rice is not a true rice, but the seed of an aquatic grass.
Almost 70 per cent of rice consumed in Canada is grown in the U.S.
The U.S. produces over 40 commercial varieties of rice each year in paddy, brown, white, parboiled and precooked forms.
There
are thousands of rice varieties. At the International Rice Research
Institute Genetic Resources Centre in the Philippines, there are 80,000
rice samples in cold storage.
Rice is grown on every continent except Antarctica.
One
seed of rice yields more than 3,000 grains. It is the highest yielding
cereal grain and can grow in many kinds of environment and soils.
With
rice, the possibilities are endless but I decided on making paella. I
adapted this recipe from Ina Garten's for lobster paella. I made this
savoury dish with lobster, prawns and mussels. Definitely a comforting
dish but sophisticated enough for entertaining.
Seafood Paella
Adapted from Ina Garten, Barefoot Contessa
Olive oil
2 small onions, chopped
1 red pepper, sliced
1 orange pepper, sliced
6 cloves garlic, minced
2 cups USA basmati rice
5 cups chicken stock
1/2 tsp saffron threads, crushed
1 lobster tail, cooked and chopped
1 pound prawns, cooked in butter
1 pound mussels, cooked
salt
pepper
parsley
lemon
Preheat the oven to 425 degrees F.
Heat the oil in a pot, add onions and cook over medium-low heat for 5 minutes. Add the peppers and cook for another 5 minutes. Lower the heat, add the garlic, and cook for 1 minute longer.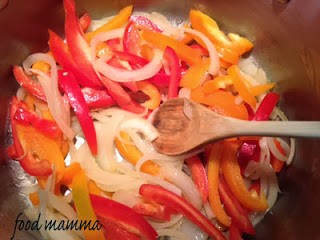 Stir in the rice, chicken stock, saffron, salt and pepper and bring to a boil. Cover the pot and place it in the oven. After 15 minutes, stir the rice gently and return in to the oven to bake uncovered for 15 more minutes, until the rice is fully cooked.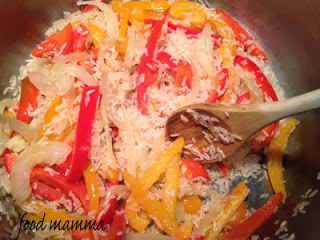 In the meantime, cook the seafood. I cooked the prawns and lobster in butter.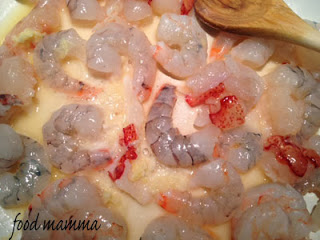 Transfer the paella back to the stove and add in the seafood. Cover the paella and allow it to steam for 10 minutes. Garnish with parsley and lemon.