With all the snow that came down last night, and the nasty roads I kept hearing about, today seemed like a great day to stay in. We were reminiscing about the cruise we took last month (more to come on that), and recalled the fabulous weather at all the ports. Q wished that he could live in the Bahamas, and on days like today, I wish we did!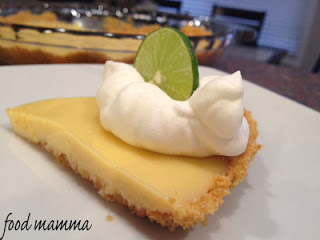 Our first port was Key West, Florida, and all the reviews about the quaint little town said that we needed to try the Key Lime Pie. We happily obliged. We had lunch at a restaurant near the water and ended our meal with the much talked about pie. It was delicious, and even hubby, who normally does not have a sweet tooth, enjoyed it.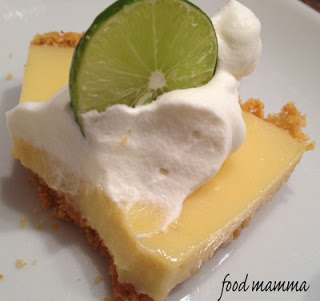 It was a great after lunch project, the smell of the citrus reminding us of summer and hot places. Q did most of the work since it's super simple to make. The crust is sweet, the luscious filling is tart and the dollop of whipping cream rounds it all out.
Key Lime Pie
Adapted from Christine Cushing
Crust:
1 cup graham crumbs
1/4 cup melted butter
2 TB sugar
Filling:
1 can condensed milk
3 egg yolks
1/2 cup key lime juice
Topping:
1 cup whipping cream
2 TB icing sugar
Combine the graham cracker crumbs with the melted butter and sugar. Press into a pie dish and bake at 350 degrees for 10 minutes.
Combine the condensed milk, egg yolks and key lime juice and mix until well combined. Pour into the prepared crust and bake at 300 degrees for 25 to 30 minutes. Once cool, refrigerate.
Combine the whipping cream and icing sugar and beat in a mixer until you get peaks. Dollop onto each slice of key lime pie and garnish with a slice of key lime.