It's Pi Day – giving me a great excuse to make a pie. I've had this on my list of things to make and what better day to make it.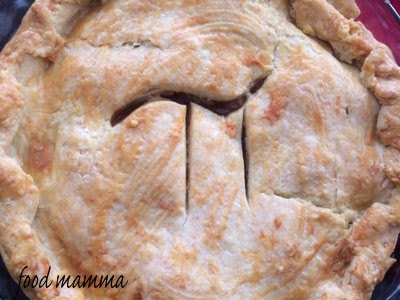 Sugar and cinnamon tossed apples are baked within a cheesy, buttery crust. The sweet and savoury combo is definitely a win!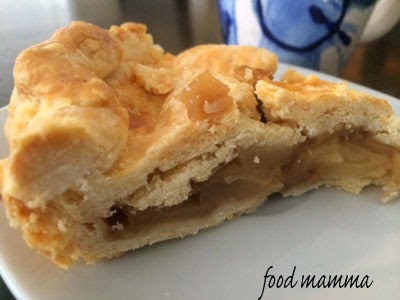 Apple Pie with a Cheddar Crust
Cheddar Crust
From Martha Stewart
2 1/2 cups flour
1 tsp salt
2 sticks cold butter, cut into small pieces
1/4 to 1/2 cup ice water
1 cup shredded cheddar cheese
Pulse flour and salt in a food processor until combined. Add butter, and pulse until mixture resembles coarse meal, about 10 seconds. Drizzle 1.4 cup water evenly over mixture. Pulse until mixture just begins to hold together (dough should not be wet or sticky). If dough is too dry, add more water, 1 TB at a time, and pulse. Add cheese; pulse until combined.
Shaped into 2 disks, and wrap each in plastic wrap. Refrigerate until chilled, about 30 minutes or up to overnight.
Filling:
5 Granny Smith Apples, peeled and sliced
2 TB lemon juice
1/2 brown sugar
1/4 cup flour
1 tsp salt
1 tsp cinnamon
Finish:
1 egg
2 TB water
Combine the apples with the lemon juice, sugar, flour and spices.
On a floured board, roll out pastry, using your pie plate as a guide.
Place the first circle in the pie plate and fill with filling. Top with
the second crust. Fold bottom pastry over the top and crimp the edges.
Using a pastry brush, brush the crust with the egg and water mixture and add some vents.
Bake at 375 F for about an hour, until the crust is nice and golden.