Although I haven't been getting on my computer much to share some tasty treats, we have been busy in the kitchen. I'm hoping to catch up in the next little bit!
We have been using the same recipe for chocolate chip cookies for a while. If a recipe is good, why not let it be your go-to, right? Q and I decided to change things up last week and came up something new. These cookies are soft and chewy and contain not only chocolate, but some of our other favourites like pecans and coconut.
Just to warn you, these moist cookies are very addictive! Made even more perfect with a glass of milk.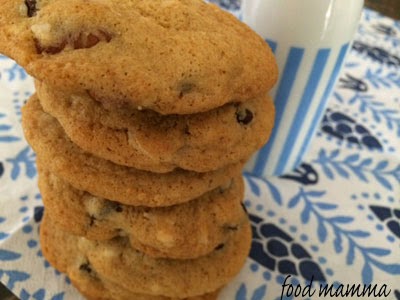 Chocolate Chip, Pecan and Coconut Cookies
1 cup butter
1 cup brown sugar
1/2 cup sugar
2 eggs
1 tsp vanilla
2 cups flour
1 tsp baking soda
1/2 tsp salt
1 cup semi-sweet chocolate chips
1 cup pecans
1/2 cup shredded coconut
Beat the butter with the sugars until well mixed. Beat in eggs and vanilla. Add the flour, baking soda and salt and beat. Stir in the chocolate chips, pecans and coconut. Using a small cookie scoop, drop onto a parchment lined cookie sheet. Bake for 12 minutes at 375 degrees.