I am excited to be participating in the Hidden Valley Gluten-Free Challenge. Using Hidden Valley Ranch dressings, I was to come up with a gluten-free recipe for the holidays.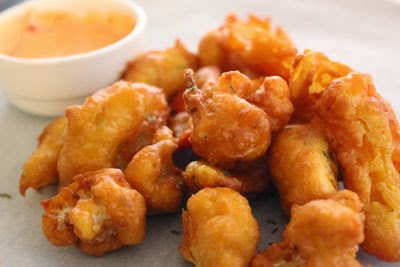 The first thing that came to mind were vegetable pakora. Using chick pea flour and the Spicy Ranch dressing for flavour, I coated vegetables like cauliflower, red pepper and onions with batter and fried them until golden brown. The resulting pakora were a hit and even got my 6 year old to eat his veggies without complaint!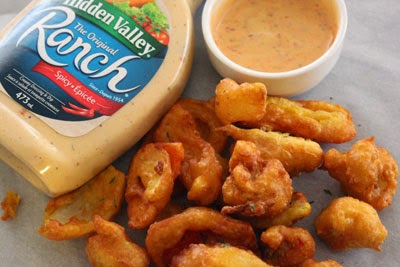 To make the dressing go even further, I added some garlic chili sauce to the Spicy Hidden Valley Ranch dressing. This was the perfect dip to serve with the pakora.
This would be a great appetizer for holiday entertaining because it caters to not only those who are looking for gluten-free items but also the vegetarians in your life.


Hidden Valley Ranch products and other promotional consideration were received in exchange for providing the above recipe as part of a submission in a contest sponsored by Hidden Valley Ranch.
Vegetable Pakora
1 cup chick pea flour
1 tsp baking powder
1/2 tsp turmeric
1/2 tsp cumin
1/2 cup Hidden Valley Ranch Spicy Dressing
1 cup water
vegetables (anything you prefer, like cauliflower, peppers, onions, potatoes…)
Mix all the ingredients together except for the vegetables. Once combined and the batter is nice and thick, coat the vegetables and fry until golden brown.