After days of turkey leftovers, stuffing and potatoes, Williams-Sonoma's Smoothie Week comes at the perfect time. We are all out of sorts when school is out and it's easy to fall out of routine. Smoothies are a great way to ensure that all of us are still getting in our fruits and vegetables.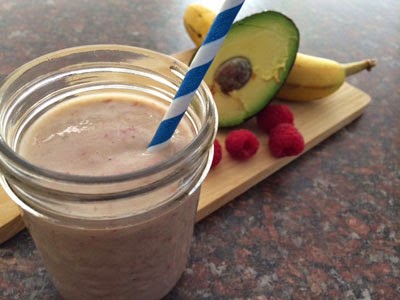 This smoothie is a new favourite of ours. I love the creaminess that avocados bring to smoothies, not to mention all the fiber and the good fats that it adds. As much as Q likes avocados, he's always skeptical to have them in his drink. The taste of the avocado is subtle though and when paired with bananas and raspberries, he had no clue.
Avocado, Banana and Raspberry Smoothie
1/2 ripe avocado
1 banana
1/2 cup raspberries
milk
Throw everything into a blender and enjoy!