Last year, one of the favourites found in my Christmas baking boxes was Christmas Crack. I was intrigued when I saw it on
Julie's blog
and once I made it, I knew I was in trouble. Who knew that crackers with butter, sugar and chocolate could make something so amazing….and addictive!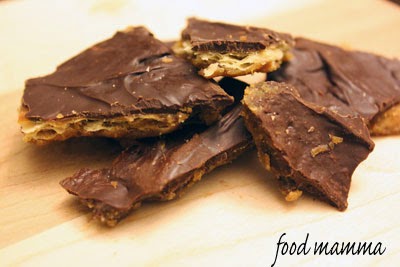 I did a little holiday baking today for neighbours and friends and whipped up a batch of these. If you have a little self control and don't eat them all, these are perfect for gifting.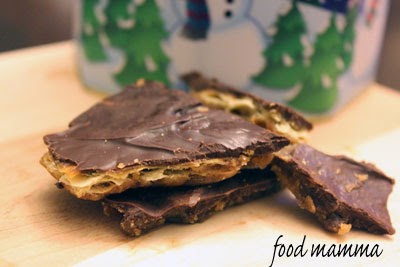 For step by step instructions with pictures, check out Dinner with Julie.
Christmas Crack
From Dinner with Julie
1 1/2 sleeves salted saltine crackers
1 1/4 cups butter
1 1/4 cups packed brown sugar
1 1/2 cups chocolate chips
Preheat the oven to 350F. Line a rimmed baking sheet with parchment, foil or a silicone mat to prevent clean-up after (and to make it easier to get the crack out); line with saltine crackers, placing them right together.
In a medium saucepan, bring the butter and brown sugar to a boil over medium-high heat. Let it bubble for 3 minutes, then remove from the heat and pour it evenly over the crackers. Spread it with a knife to fill any gaps.
Place in the oven and bake for 8 to 10 minutes, until deep golden.
Remove from the oven, let cool for a few minutes and then scatter chocolate chips overtop while the caramel is still hot. Let sit for a few minutes, then spread with a knife until smooth.
Cool completely before breaking into pieces.