Any chance that I can add a secret ingredient to up the nutrition factor in an otherwise non-nutritious recipe, I'll happily take it. I loved the idea of adding lentils to one of our favourite cookie bars. These cookie bars have a cup of lentils added to the crust but you would never know! The addition of fibre via the lentils make me feel a little less guilty in indulging.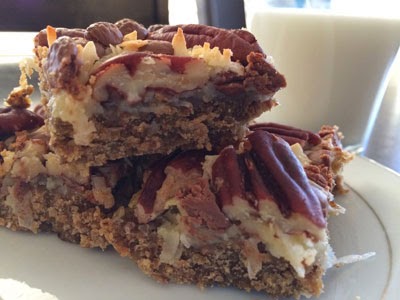 These bars were so good, they didn't last long! They were perfect with a glass of cold milk.
Lentil Cookie Bars
20 Maria Biscuits
1 cup cooked lentils
1/4 cup softened butter
1/2 cup condensed milk
1 cup flaked coconut
1/2 cup chocolate chips
1 cup pecan halves
In a food processor, pulse together the biscuits, the lentils and the butter until well combined. Press the mixture into a parchment lined 8″ x 8″ pan. Cover the bottom layer with condensed milk and top with coconut and chocolate chips. Add the pecan halves. Bake at 350 degrees for 25 minutes. Let cool before digging in.