It's Oscar Sunday! Although I haven't seen a lot of the nominated movies, it's a great excuse to have a party. If you're looking for an appetizer, here's a tasty one!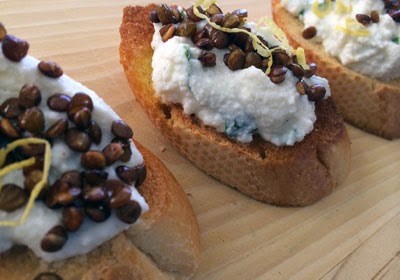 Toasted baguette rubbed with garlic topped with a refreshing ricotta spread that's brightened with lemon and basil – yum!. This crostini is complete with a topping of crispy lentils. The ricotta makes it nice and light while the lentils add some crunchy substance. It was hard not to eat them all myself!
I became a fan of crispy lentils after trying it on a pasta dish at the Food Bloggers of Canada Conference. They are so easy to make, just tossing some cooked lentils in the oven with a little bit of olive oil. It took about 25 minutes and a couple shakes throughout the process. The crisped up lentils are great on their own but perfect as a topping.
What are you serving at your Oscar party?
Lemon Ricotta Crostini with Crispy Lentils
1 baguette
300 grams ricotta cheese
1/2 large lemon, juice and zest
2 TB chopped basil
1 cup cooked lentils
olive oil
salt
pepper
Spread the lentils on a baking sheet with a little bit of olive oil and salt and pepper. Bake at 375 degrees for about 25 minutes.
In a bowl, combine the ricotta, zest of half a lemon, juice of half a lemon and the basil. Season with salt and pepper.
Cut the baguette into slices, drizzle with olive oil and toast.
Add a spoonful of the mixture on the toasted bread and top with the crunchy lentils. Enjoy!